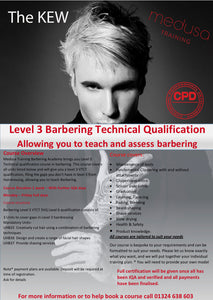 This course covers the *"gaps" that you *perhaps didn't do in your Level 3 Hairdressing qualification.
its takes you through, clipper cutting, beard shaping, styling gents hair, and shaving. Incorporating H&S and consultation for these services.
The shaving also trains you in BBA signature shave (British Barbers Association) which comes complete with Products to use and take away and also for any colleges looking to run the course themselves this has material to go with it and deliver. 


* Gap fill is only for the names Qualifications in this order. The others will be dependant on your existing qualifications and are costed only accordingly to doing these quals we take you through.
any subsequent missing units would be charged at a cost per unit or grouped which ever is better.