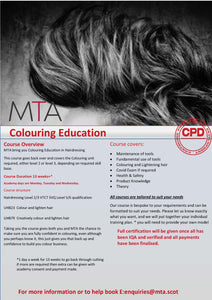 Course Overview
13 weeks, 1 day a week, giving you more.
MTA bring you Colouring Education in Hairdressing
This course goes back over and covers the Colouring unit required, either level 2 or level 3, depending on required skill base.
Course Duration 13 weeks+*
Academy days are Monday, Tuesday and Wednesday.
Course structure
Hairdressing Level 2/3 VTCT SVQ Level 5/6 qualification 
UHB23  Colour and lighten hair 
UHB79  Creatively colour and lighten hair                      
*1 day a week for 13 weeks to go back through cutting if more are required then extra can be given with academy consent and extra payments made weekly.
All colours can be supplied at extra cost.
You will require models, you may use our model bank, we can't guarantee models for you.
Course covers:
Maintenance of tools
Fundamental use of tools
Colouring and Lightening hair
Covid Exam if required
Health & Safety
Product Knowledge
Theory
All courses are tailored to suit your needs
Our course is bespoke to your requirements and can be formatted to suit your needs. Please let us know exactly what you want, and we will put together your individual training plan. * you will need to provide your own model.